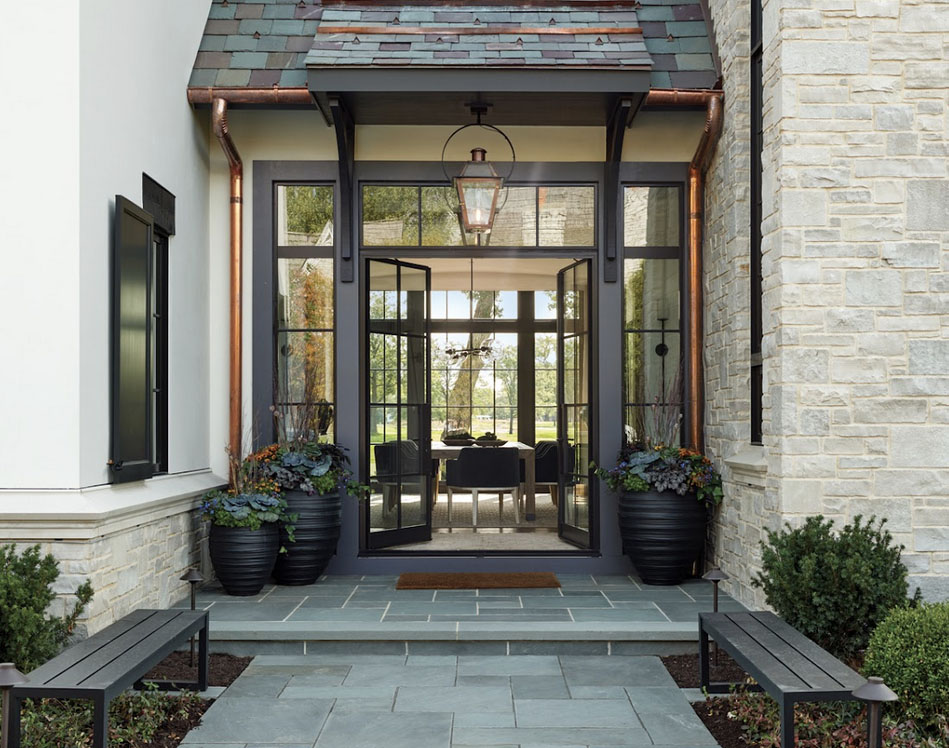 ​
SAVE THE DATE: Fri., May 17, 2024 — The 3rd Annual Home Tour
---
Thank you for your interest in the Home Tour! Unfortunately, Tour and Luncheon tickets are sold out. We appreciate your understanding. Raffle tickets are still available for six fantastic prizes at $25 each.
---
Join Us For The Home Tour!
Friday, May 19, 2023

Check-In from 9:15 am - 1:30 pm at the Community House
Residences open from 9:30 am - 2:30 pm
Luncheon from 11 am - 2 pm at the Community House
The Community House is located at 620 Lincoln Avenue in Winnetka
Gorgeous Home Tour - Join the Community House Woman's Board for an inspiring tour of exquisite North Shore homes. See four architecturally unique and aesthetically beautiful residences in Winnetka, Glencoe, and Wilmette on a self-guided tour. As an added bonus, meet the architect, designer or builder behind the vision in each home. All proceeds from The Home Tour benefit the Community House in Winnetka.
Delicious Luncheon - A delightful lunch is included in the ticket price and is generously donated by Wintrust Mortgage and Northern Fork. Enjoy a glass of wine with grilled Mediterranean chicken, seasonal salads, soups and a little something sweet. The Grand Food Center and Schmechtig Landscapes are contributing beautiful floral décor.  Burdeen's Jewelry will also be at the luncheon with haute custom jewelry pieces from their exclusive collection.
Enticing Raffle Prizes - Enter to win fabulous, curated items! See below for information.
Reservations and Raffle Tickets - Through May 18, event tickets may be purchased for $100 and raffle tickets for $25 by clicking below or by contacting the Front Desk at 847-446-0537. On May 19, if available, tickets may be purchased at the Community House.
Questions? Please contact hometourcommunityhouse@gmail.com
 The Home Tour SOLD OUT last year, guests are encouraged to purchase early.
Thank You to Our Generous Sponsors!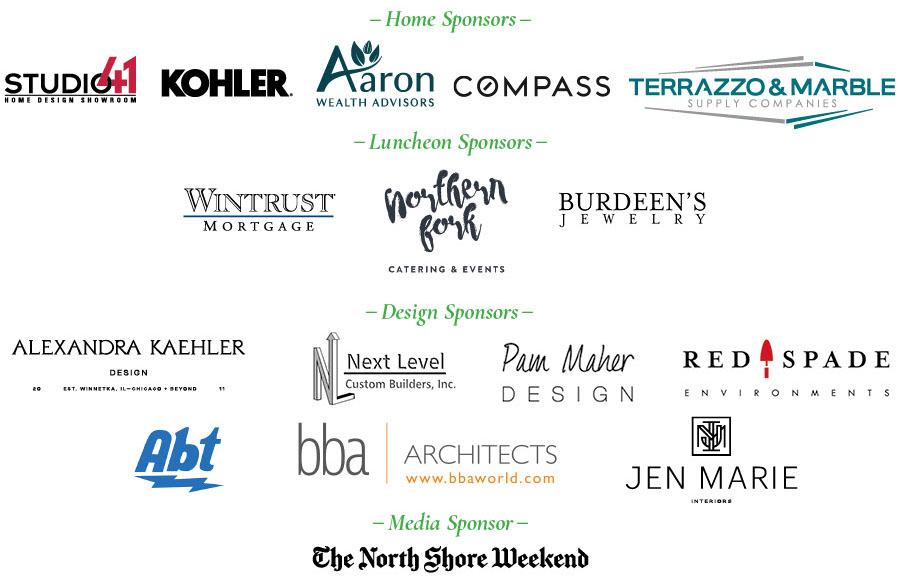 ​
You Are Invited To An Inspiring Tour Of Four Exquisite
North Shore Homes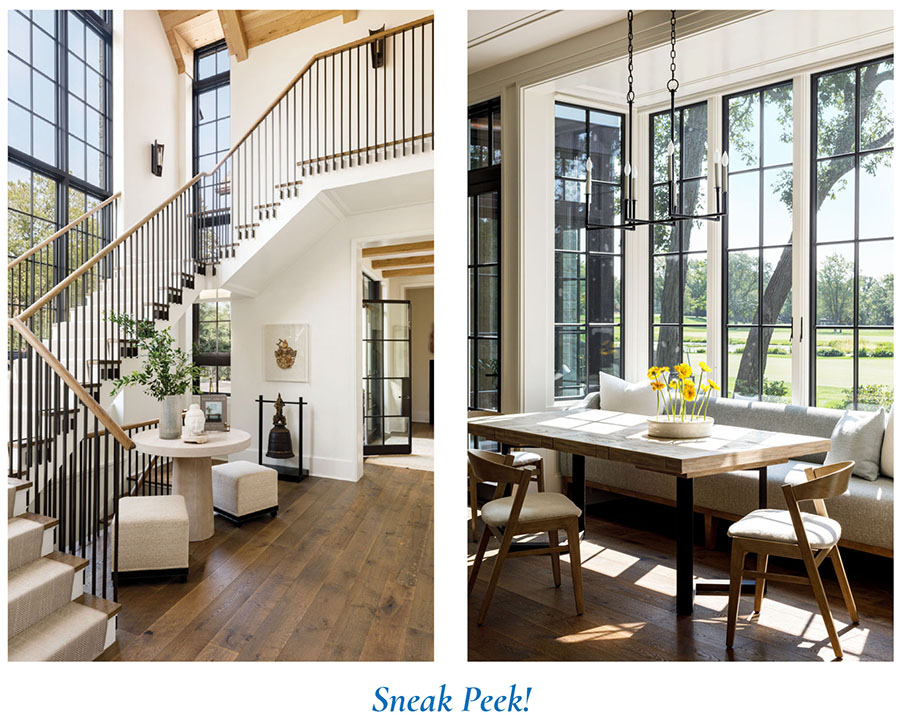 ​
English Golf Estate - A stunning English country style home built on Skokie Country Club's golf course, this estate embodies understated elegance with generous warmth. Treasured artifacts collected while living abroad in Asia are a decorative highlight in this home. Large windows flood the house with light and offer exceptional views. Luxuriously comfortable, this custom residence is a reflection of the homeowners' travels and love for family.
Table Setting Design: Material Possessions   Floral Design: Amy Swartchild Food & Floral
Haven On The Hill - A fully renovated Otis & Clark masterpiece, nestled at the top of one of the most desired streets in Winnetka, boasts a beautifully landscaped property. The unique barrel ceiling foyer immediately draws you into the home with its European, art gallery-like feel. Dramatic color and geometric design patterns are used throughout the house to highlight historically significant details, while giving it a fresh, contemporary flair.
Table Setting Design: Peachtree Place   Floral Design: Wellyhaus
Family Living Reimagined - A once overlooked home has been entirely transformed into a sophisticated family abode. The interior designer recalls the design process with the most difficult client – herself! – as an exercise of creativity and curating limitless options. Inside and out, the home has been completely renovated to reflect the homeowners' vision of livability and style for their young family.
Table Setting Design: Unison • The Table Muse   Floral Design: Ceciel's Flowers  
Patio Staging: Serena & Lily
Historic Revival - Built in 1907 as an elegant three story brick Georgian manor, this historic Local Landmark in Wilmette was originally on the lakefront and now offers beautiful views of the Baha'i Temple. Lovingly restored in 2022, its revival includes impeccable attention to original architectural details, with exceptional modern amenities for family living.
Table Setting Design and Staging: Hudson Grace   Floral Design: The Shy Flower
​
Enter To Win These Fabulous Curated Raffle Prizes!
Raffle tickets are $25 each
Diners' Delight - Enjoy the best of North Shore dining with gift certificates to EJ's Place, Merlo's, Spirit Elephant and any of the Ballyhoo Hospitality restaurants, including Sophia Steak, Pomeroy, Buck Russell's and Ballyhoo's Chicago eateries. For nights when you'd rather dine in, this raffle basket also comes with a trio of rare and remarkable California Cabernet Sauvignons from Cardinale, Fortunate Son Wines and Lokoya, plus a cheeseboard and a selection of gourmet cheeses. Estimated value: $1,750
 
Botox Bonanza - Pamper yourself with 100 units of Botox at Natural Beauty Med Spa! Physician Assistant aesthetic injector, Ashley Bohling, loves making people feel more confident and beautiful in their own skin. She believes the best results come from understanding the patient's needs and desires to provide a personalized treatment plan. Enter for a chance at a custom appointment with Ashley! Roscoe Village (Chicago) location only; 100 units can be split between up to three appointments. Estimated value: $1,400
 
Pakistani Cuisine Dinner or Cooking Class with Raheela Gill Anwar - Savor an authentic Pakistani dinner for ten people prepared in your home by Raheela Gill Anwar. Traditional Pakistani dishes will be paired with five exceptional Napa Valley red wines. Alternatively, Raheela can lead you and your guests in a cooking class where you'll make the meal together while learning about the culture and history behind each dish. In addition, enjoy a beautiful floral arrangement to elevate your dining table with a gift card from Chestnut Street Flowers. Estimated value: Priceless!
 
A Fun Night Out - Enjoy two tickets to the Antiques & Modernism Show Preview Party at the Community House on November 2, 2023. This party is one of Winnetka's most special evenings, featuring 50 dealers from around the world. You and your guest will enjoy inspired cocktails, delicious seasonal foods and early access to view and buy at the Show. Before you head out, enjoy a glass of wine (or two) with friends with two bottles of high-end 2017 Vice Versa Cabernet Sauvignon. Estimated value: $800
 
Babs Boards Charcuterie Class - Host a gourmet evening with a Babs Boards class for you and four friends. Babs, renowned on the North Shore and beyond for her spectacular charcuterie boards, will lead this interactive class in your home. You and your guests will learn how to assemble beautiful boards for your next party. Salami roses? Absolutely! This package includes all supplies needed for your boards in addition to two bottles each of red and white wine to get your creative juices flowing. Date to be mutually agreed upon; package expires May 1, 2024. Class donated by Babs Boards. Estimated value: $700
Two Beautifully Designed Container Gardens by Schmechtig Landscapes - Bring the natural beauty and design artistry of Schmechtig Landscapes renowned planter arrangements to your outdoor space. Winner to select their preferred season of arrangement (summer or winter/holiday). Schmechtig's talented Horticulturist, Lynn Galligan, will choose and design the plant selections and containers after consultation with homeowner.  This includes two containers, seasonal plants, arrangement, and delivery.  Estimated value: $800 (time and materials)
​
The Home Tour Is Presented By
The Community House Woman's Board
 
All Proceeds Benefit The Community House
About the Community House - The Community House is a unique non-profit organization that has played a special role on Chicago's North Shore for more than a century. Today, this home away from home is more alive than ever, serving an increasing number of children and adults through life-changing programs and offering opportunities to find friendship, belonging and community spirit. As an independent 501(c)(3) nonprofit that receives no support from local taxes, the Community House relies on support from charitable contributions and fundraising events including The Home Tour.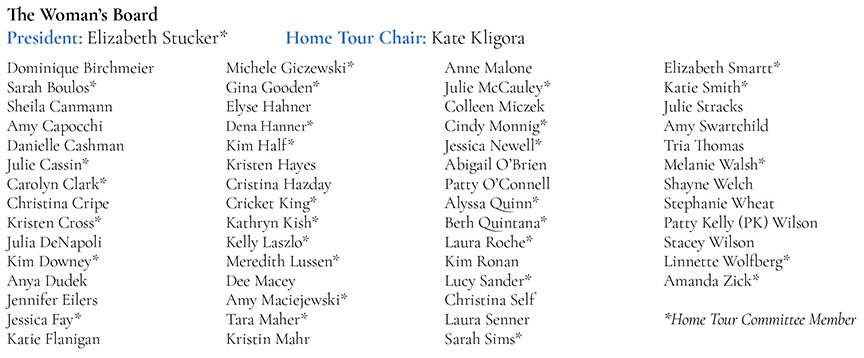 ​
We appreciate your support of the Community House!