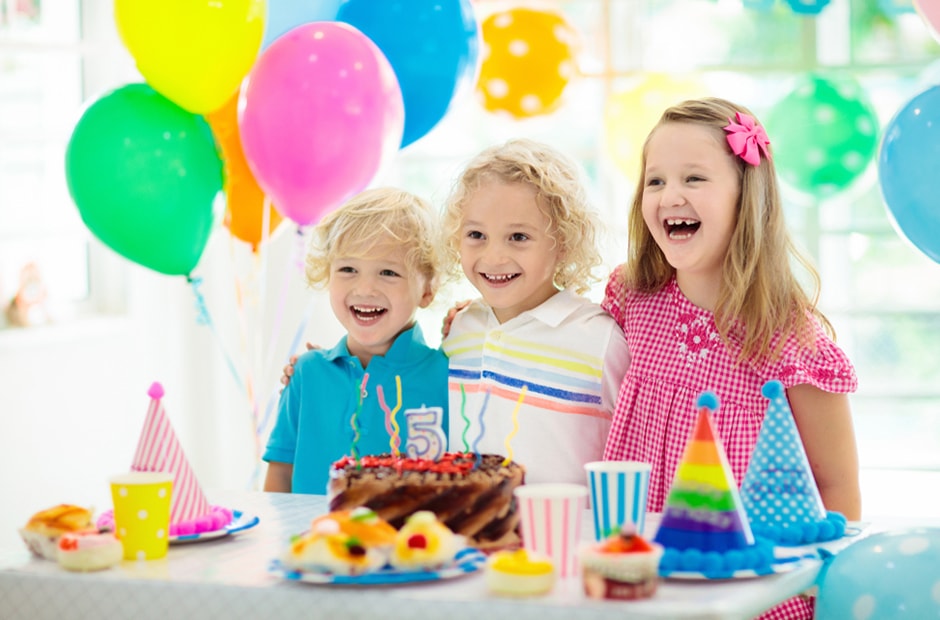 choose the perfect birthday party for your child
Searching for your child's next birthday party location? The Community House has the ideal venue. Party packages include 90 minutes of party time (which includes 45 minutes of entertainment or instruction), party room setup (tables and chairs), and cleanup. You may bring food and drinks, paper and plastic goods, and decorations. Access to your room is available 30 minutes prior to your party start time.
Dates, times, and entertainers are dependent upon availability. Due to the popularity of our birthday party program, we strongly suggest that you book your event at least three weeks in advance. Cancellation within 5 days of your party will result in forfeiture of the fee.
---
The perfect birthday party place for you!
The fee for each party (unless otherwise noted) is $300 for up to 20 guests, plus $5 for each additional child. Party packages are for 90 minutes, which includes 45 minutes of entertainment or instruction and party room set up and clean up.
Contact Mark Schusteff at 847-881-9370 or marks@mywch.org to schedule. We look forward to working with you to make your child's birthday special and fun!
Animal Balloon Party — Age 3 & Up Balloon animals are a huge hit at birthday parties! Now your party can have balloon animals including dogs, butterflies, swords, giraffes and more being made non-stop for 45 minutes by the Magic Team of Gary Kantor. The kids will do more than just play with the balloons; they'll also get to decorate their animals with stickers and markers. At the end of the party, all the kids will get to take home their very own collection of assorted balloon animals.
Basketball — Age 4 & Up Hoops4Health will have their highly trained staff set up fun basketball games such as a 3-point contest, dribbling contest, and a hotshot contest. Contest winners will receive various prizes!
Clowns — Age 3 & Up Our experienced performers attract and hold a child's attention. Parties can include balloon animals, games, kooky magic, and interactive dance.
Imagination Princess — Age 3 & Up Expect ribbon dancing, interactive storytime, sing-along, princess training, themed games, and more during this fantastical journey. Choose your favorite movie princess as your theme!
Magic — Age 4 & Up Abracadabra! Children enjoy an amazing display of magical tricks at this exciting party. Our professional magicians gear their magic to children of all ages.
Magic & Music — Age 5-12 This show is a very interactive blend of magic with music, games, and contests. Our child-friendly magical performance includes many opportunities for the children to help with the tricks. After the magic show, our performer will lead guests in games, age-appropriate music, television trivia, and fun dances.

Pamper Me Spa Retreat — Age 6-12 Come join Glitzy Girls as they pamper your guests. Each guest will receive a mini manicure and pedicure including the polish of their choice. Then, design a beaded bracelet/anklet to show off your beautiful nails. $300 for up to 10 guests; $360 for 11 – 15 guests; $420 for 16 – 20 guests.
Rock Diva Glam Jam — Age 6-12 Come join Glitzy Girls for a glamorous dance party. Each child will receive a rock diva or dude makeover; which includes up-dos, braids, make-up, and sparkles. Then, dance to your favorites like limbo and freeze dance. $300 for up to 10 guests; $360 for 11 – 15 guests; $420 for 16 – 20 guests.
Sports — Age 4 & Up If your child loves sports, this is the party for them! A trained instructor leads the children in activities such as basketball, dodgeball, floor hockey, and more. Children are sure to pick up an appetite for that birthday cake! $300 for 20 guests; more than 20 children require an additional instructor, which will incur additional costs.
Wacky Relays and Other Goofy Games — Age 5 & Up What do you get when you cross the Olympic games with scooters, Hula Hoops, balloons, and more? You get Wacky Relays! Outrageous fun for all! WARNING: Not everyone can handle this much fun! $300 for 20 guests; each additional child $5.
Yoga for Kids – Age 3 & Up Using music, movement, stories, and games, children's imagination will be engaged while learning popular yoga poses, breathing techniques, and enjoying meditation in a fun, interactive kids yoga class. We can cater to any theme, or we have customized themes to choose from. $300 for up to 10 guests; $400 for 11-20 guests.
---
Already secured entertainment and just need a room?

Room Rental Only Info
Call 847-881-9370 to book your party today.